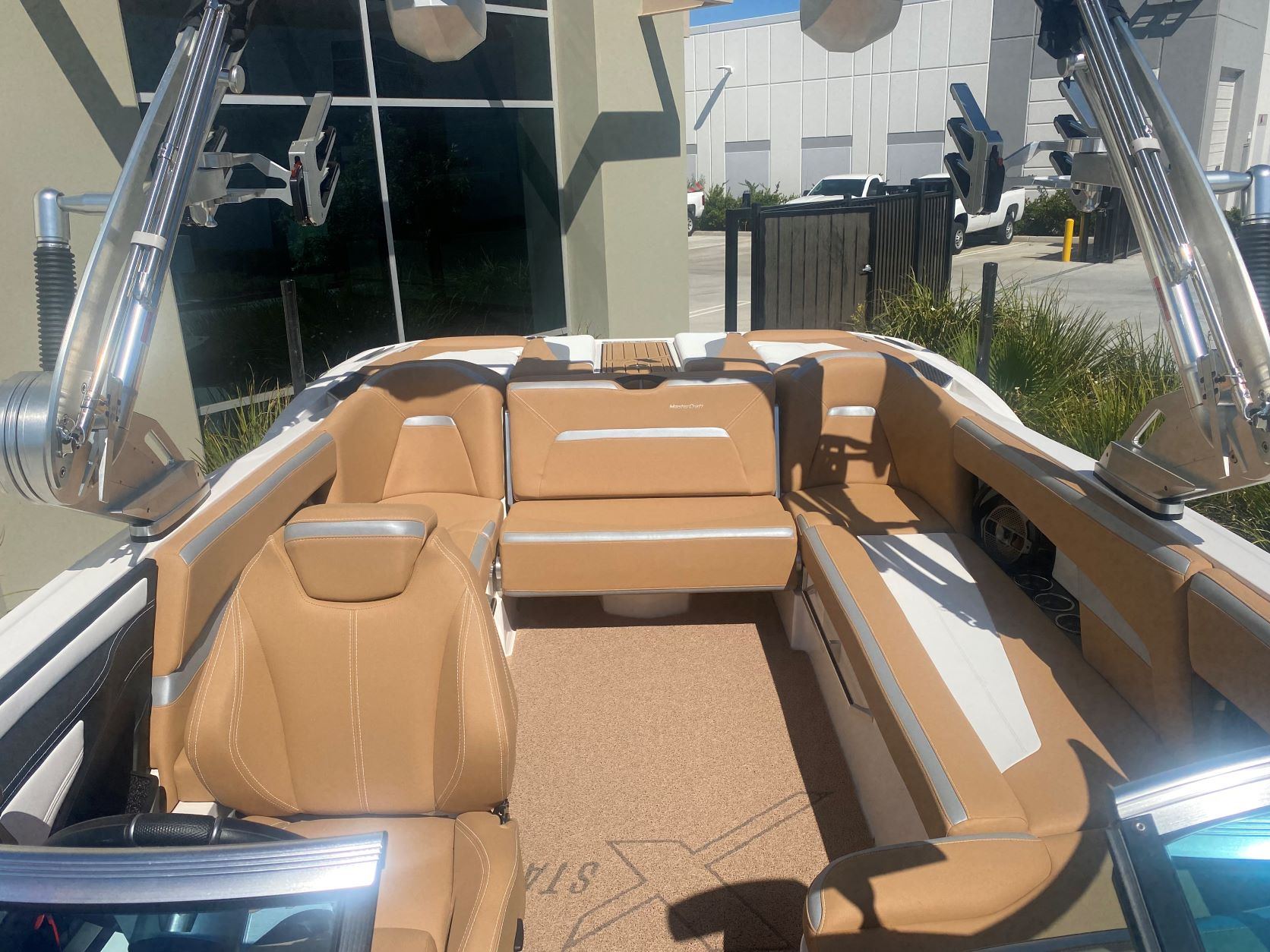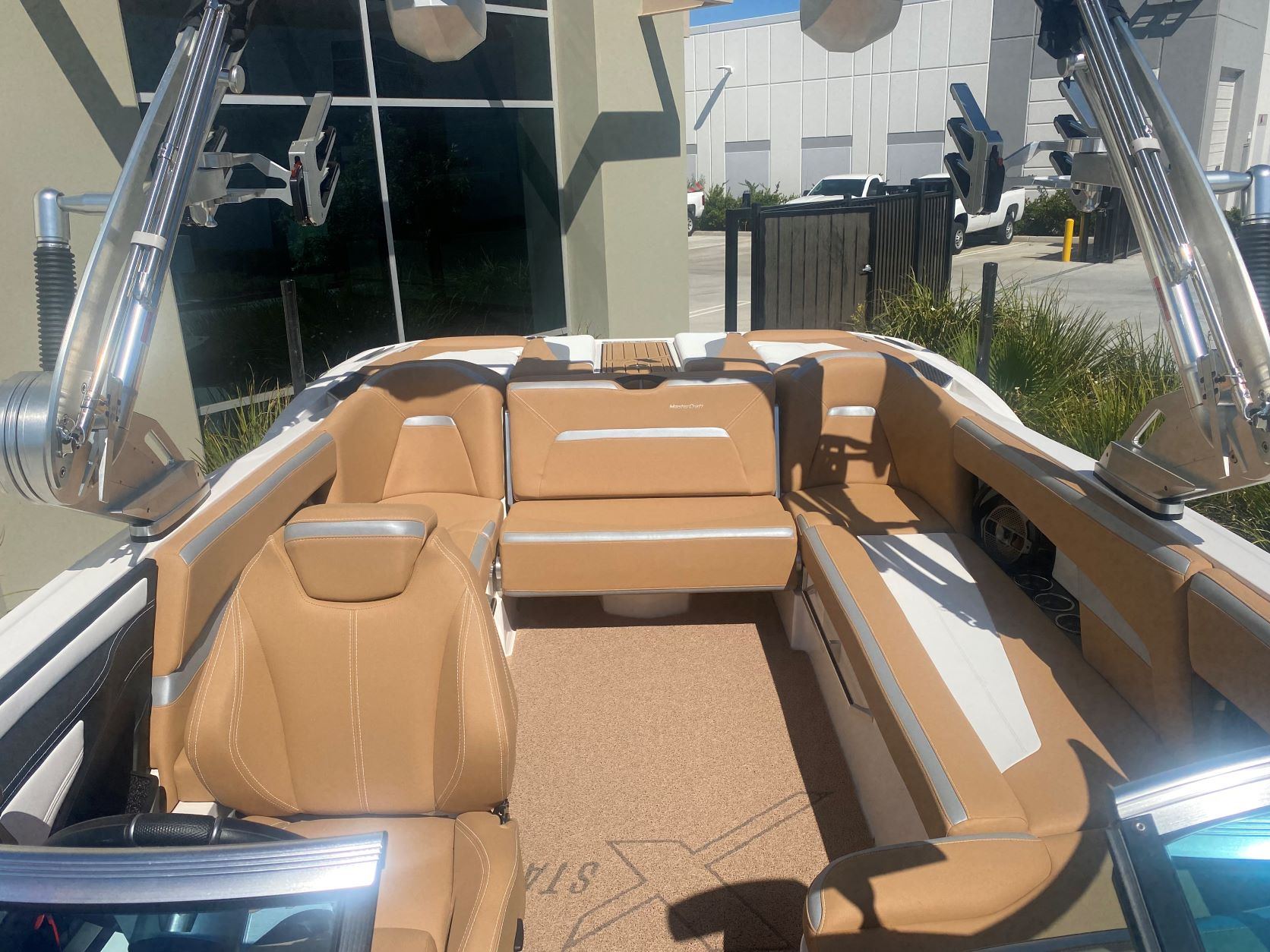 SPECS
Boat Year:

2021

Boat Make:

Mastercraft

Boat Model:

XSTAR

Engine Hour:

97.5

Boat Length:

23 FT

Boat Weight:

5800 lbs

Boat Capacity:

2400lbs

Boat Engine:

6.2L GDI 2.00:1 68IV 21 VD ILMOR

Boat Stock Number:

PLRE8

Boat Fuel type:

Gas

Boat HullId:

MBCPLRE8F121

Beam:

102

Category:

Ski/Wakeboard Boat
COLOR
DECK 1:

White

DECK 2:

White

HULL BOTTOM:

White

HULL 1:

White

HULL 2:

White

HULL 3:

White

DESIGNATOR:

Chrome Satin

SWIM PLATFORM:

Teak

INTERIOR BASE:

Coolfeel Beach Tan

PLEAT:

Reflex Silver

INTERIOR 2ND BASE:

Coolfeel Beach Tan

INTERIOR 3RD BASE:

Coolfeel Alpine White
STANDARD OPTIONS
V3 WAKE PROPELLER
DUAL EXHAUST SYSTEM
WIRELESS PHONE CHARGER
MIRROR 6X9 CIPA FIXED
MOTOR BOX STORAGE COMPARTMENT
ADDITIONAL FEATURES
ILMOR 6.2L GDI VD 2.1:
INTERIOR BASE:

COOLFEEL BEACH TAN

INTERIOR 2ND BASE:

COOLFEEL BEACH TAN

INTERIOR 3RD BASE:

COOLFEEL ALPINE WHITE

TAN DECKADENCE FLOOR COVERING:
MIRROR:

MASTERVIEW VR100

WINSHIELD:

BTS

COMFORT AND CONVIENCE PACKAGE:
GEN 2 SURF SYSTEM WITH S2S SWITCHING:
TOWER ACCESSORIES ZFT4:

S85 SILVER CANS

BOW FILLER CUSHION:

COOLFEEL BEACH TAN

CONVERTIBLE R/S:
SUNPAD FLIP SEATING:
STARBOARD POP UP SEATBACK:
2021 Mastercraft XSTAR
Call For Price
---
INQUIRE ABOUT THIS BOAT
TESTIMONIALS

We were looking for a new boat last summer. We have never owned a boat and we're so happy to walk into Cali Marine where we met Brian. We came in at almost closing time and Brian was happy to stay late and help us pick out and design our new Mastercraft NXT22. He showed us the boats at his shop to go over in detail all the options we picked out. He even hooked up our phone to the sound system in one of the boats so we could try it out. He was so patient while we went back and forth with picking out colors. He also gave us a delivery date and came through without delay. When the boat was delivered to his shop his team dialed in all the details and met us at the lake for delivery and demo. Spencer showed me how to launch the boat and all the bells and whistles out on the water. We could not be happier with the overall experience and would highly recommend anyone looking for a new boat to go see Brian and his team. Thank you Cali Marine for making my dream come true and you continued support and assistance anytime I need a question answered or help with anything. You're the best.
- The Wells Family